Swatch.

"There are endless ways to enhance beauty. You never know when you will find your perfect lipstick unless you keep experimenting.".
- Makeup Artist, Pat McGrath
Swatch is a progressive archive of my lipstick collection as it stood June 30. I love lipstick and find it to be one makeup item I will constantly invest in. I love all makeup but base products as foundation and bronzer will always only have a few flattering shades and I wouldn't often find myself changing them and other products such as eyeshadows I always find myself gravitating to nudes and browns; so lipstick is one thing I will happily change every day to elevate a makeup look. No two shades I own are the same and I have a range of colours from black right through to green. I have all different formulas as well from matte liquid lipsticks to low pigment gloss. Initially, this project meant I needed to go through my whole collection and swatch every colour to see the variations. I decided to make a physical archive of my collection at that point in time which I could use as a swatch book to be able to look through my collection easier.
The archive will always be fluid due to the nature of purchasing products and using up products. Since I created this archive I have purchased many lipsticks which can be added to it and expand it further. Each page is a single colour swatch of a lipstick. There is small white text at the top left corner of every page which reads the brand and colour name. The bottom of each page features a perforated edge which means the swatch can be ripped out of the book to match colours to outfits.
Each colour was swatched, scanned and colour picked to best match the original swatch and was then compiled into an adobe swatch library for use to make the publication. To incorporate this into the final publication I created a digital file of the swatches and connected it to a QR code. The QR code at the back of the publication links users to the digital archive of lipstick in colour order with all swatches named according to lipsticks which can be downloaded for digital or print use.
A custom binder was made at Whites Law Bindery using a black linen cover, a blind emboss of the title on the front and a 60mm custom binder ring to hold all the pages. Each page was hand cut and perforated and placed into the binder. The colours go in order from black to green going through all of the colour spectrum.
June 2018
Text: Swatch.
Image: 149mm x 149mm; 165 pages; 190gsm colourtech matte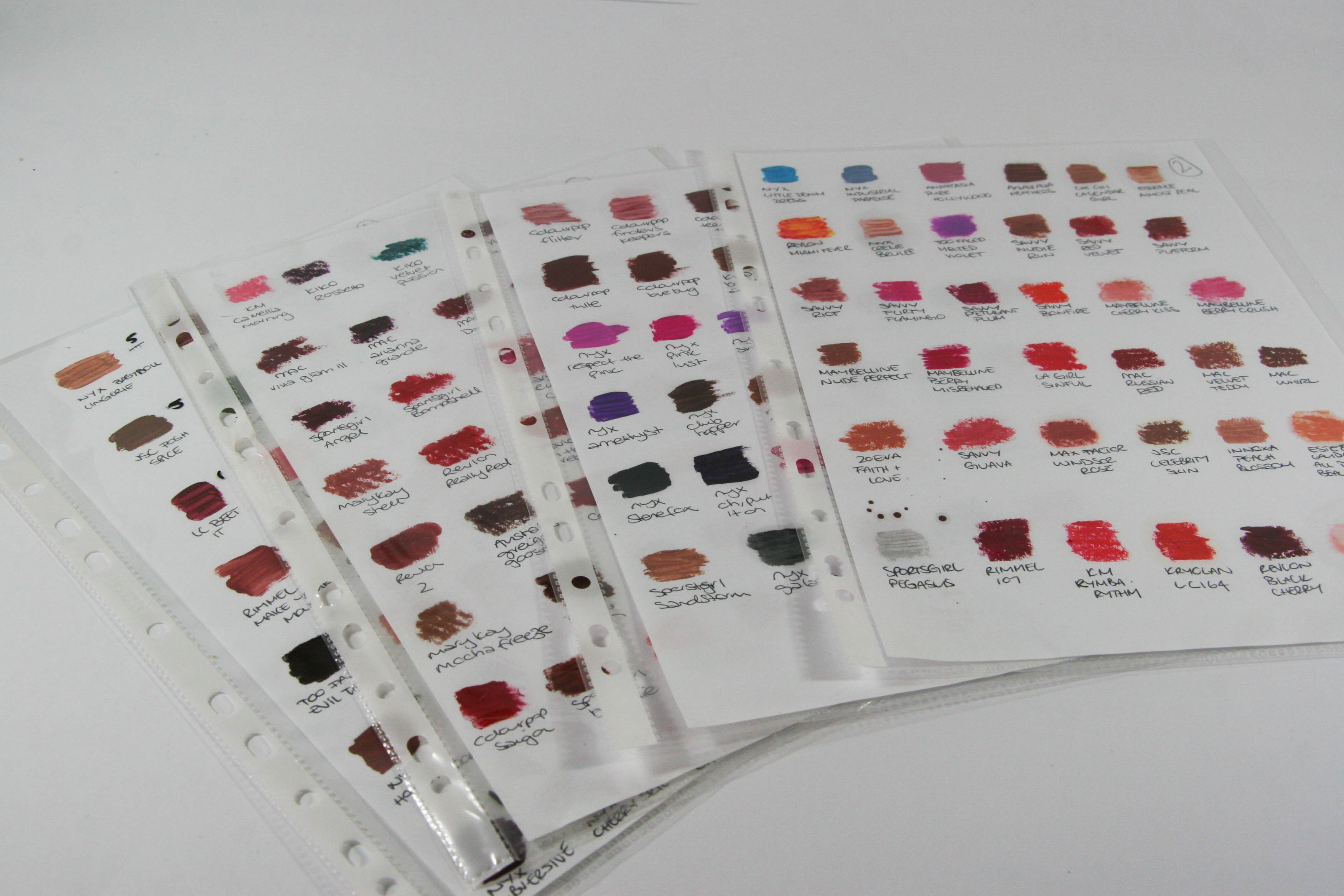 katelin rose eichner design.

---